Settings
The settings tab is where you can adjust your scheduling gym days, change the weight units, and find out more about StrengthMark.
Help
Access to this documentation is available here.
About
You can find out what specific version of StrengthMark is installed as well as licensing information and contact information.
Rate StrengthMark
Opens the App Store page where you can rate StrengthMark.
Request Support...
Opens a contact form to send to StrengthMark support. Write a detailed message with your support questions.
Export Sets...
This exports workout sets from your log. You can either export all or a range of dates. The result will be a zip file attached to an email composition. The zip file will contain a comma separated value file (CSV) file. This file can be opened in a spreadsheet editor such as Microsoft Excel. This file can be used for graphical or statistical analysis.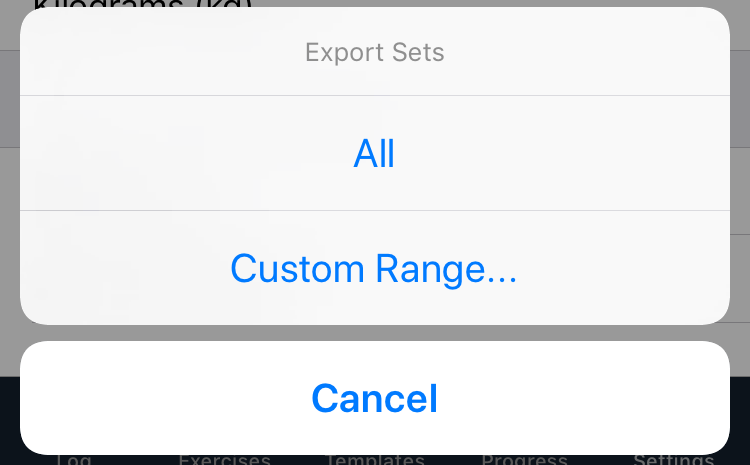 Default Weight/Distance Units
When you create a new set, these are the units that will be used. This doesn't apply to set duplicates, which copy the units from the original set.
Default Gym Availability
Use this to set the default days of the week that you want to be available for use when scheduling a template. Un-check any days that you know are not available for gym days.
For more specific control, put the Scheduling Calendar in Gym mode.
Stopwatch
Play Sound at Goal
When you turn this on, it will play a sound when the timer on the set detail page reaches the goal time.
Personal Records
Show Alert
When a set qualifies for a personal record, an alert will be displayed on the log tab. You can turn that alert off using this switch.